After returning recently from a crazy exhausting whirl wind month traveling around Canada & the US ultimately ending up in NYC for my older brothers wedding, I was craving some slow down time… After a few weird nights of jet lagy sleep I finally snapped late one Saturday night and talked my little brother into jumping in the car to go soak up some quiet time on top of a Mountain. To watch the stars and the sun and just feel a little more centered.He didn't need much convincing.
These are some words and pics I pulled together for a mates site but i figured i might as well share here 😉
Woolumbin as it is traditionally known by the local Aboriginal people is a remnant central plug of the Tweed shield volcano that has been slowly eroding for the past 23 Million years. It was named Mt Warning by Captain Cook in May of 1770 as he sailed North up the East coast into treacherous waters off Point Danger at the mouth of the Tweed River which forms the Border between Queensland and New South Whales.
Did you ever watch Fern Gully as a kid?
Fern Gully was based on the battle to protect Wollumbin/Mt Warning that ultimately lead to it being declared a World Heritage area in 1986. Along with the near by Lamington and Boarder Rangers National Parks, Wollumbing National Park protects some of the few remaining patches of the Gondwana Rainforest.
Raising to 1156m and being close to the East Coast the tip of Woolumbin is the first place in Australia that the sun touches in winter.
The hike to the summit is via a return 9km trail that winds through palm forests initially before closing in to a dense multi story rainforest. Keep an eye out for glow worms if your hiking up in the dark, they tend to like to moist areas around creeks and draining lines.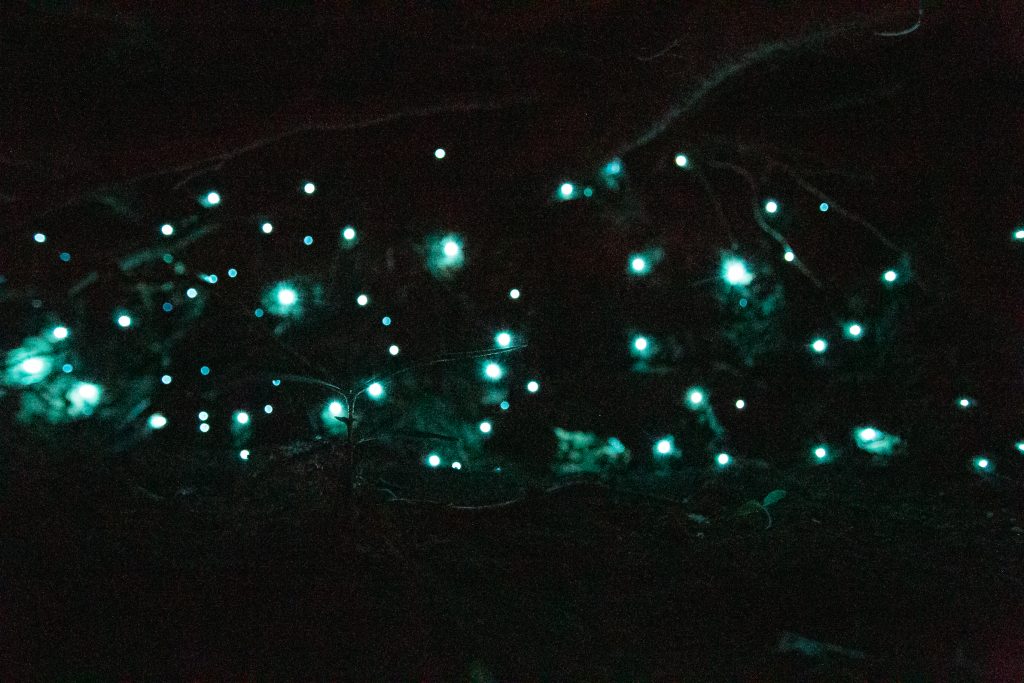 There are toilets located at the start of the trail near the car park. There are no other toilets, water stops or rubbish bins provided. That is to say the age-old rule applies, if you pack it in, you pack it out. 😉
The trail is generally well maintained although summer storms can take their toll. At a leisurely pace can be summited in 1 and ½ – 2hrs. If you allow 5hrs return including time up the top to take in views and enjoy a snack and you will be fine.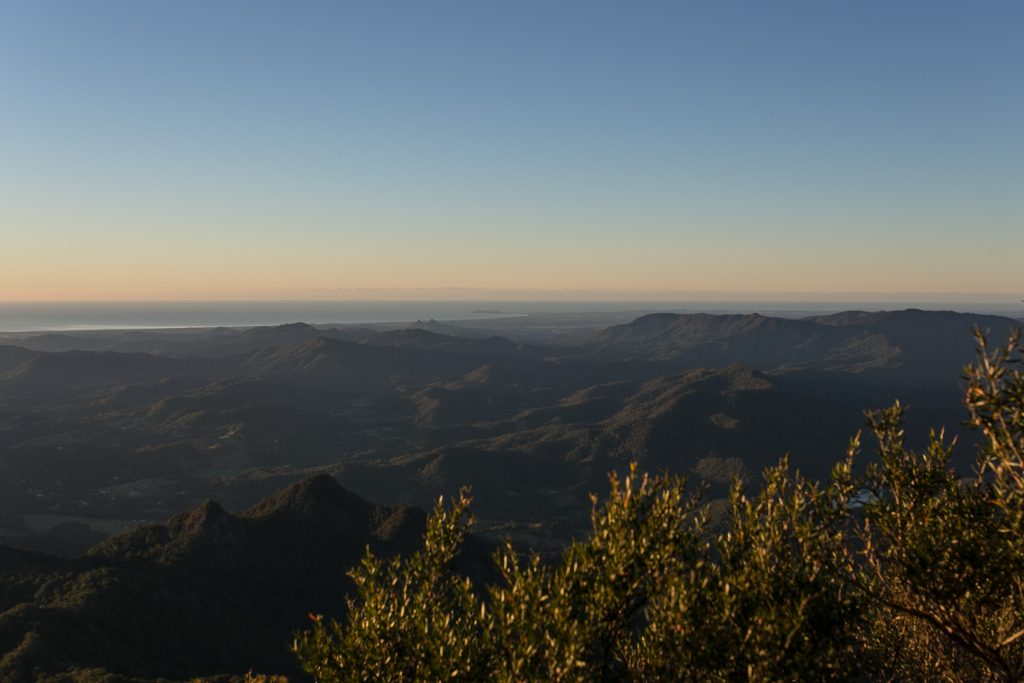 The last 500m to the summit does involve some easy scrambling. There are chains in place to make this section safe. It a good idea to bring a head torch if you are planning to head up in the dark for the sunrise so you have ur hands free to climb this last little bit.
It should also be noted there are no camp sites and over night camping is not allowed within the national park but it is still worth considering bringing up a sleeping bag or extra warm gear. The exposed summit can be much cooler than expected as it was on the evening that my younger brother and I recently walked up. It can be a long wait for the sun especially with a cold southerly breeze blowing. Fortunately along with sleeping bags we had a flask of whisky, definitely another wise essential that made hanging out to marvel at the amazing celling of starts while we waited for the sun that much more pleasant. Cool clear nights out definitely have their rewards and along with the epic stars we witnessed a really amazing sunrise. Low lying cloud and inversions can limit the view so it is definitely worth keeping an eye on the weather and spontaneously jumping in the car if its looking like a nice night out.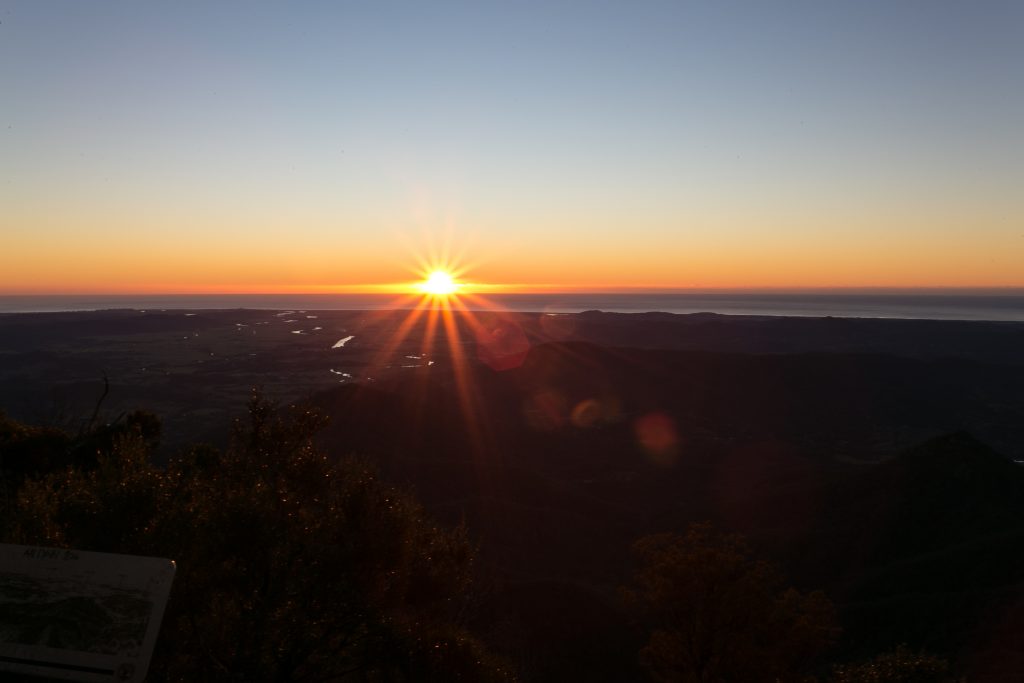 The hike is easily accessible to residents of the Gold Coast and Brisbane and attracts quite a large number of visitors. The car park can be particularly busy on weekends. All in all it makes for a great day trip especially paired with a visit to any of the number of amazing beaches and headlands that plague the Northern Rivers coastline. Just add some fresh produce from the numerous road side farm stalls and a surf &/or siesta after the early start.
It should be noted: the local Bundjalung aboriginal people consider Wooumbin a sacred site and in their culture only initiated people are allowed to hike up to the summit. Accordingly they do ask people to consider respecting their culture and considering not hiking Woolumbin.
(I only just discovered this information in researching up a little more to write this and felt compelled to share).