And so another week has apparently already blurred on by…
Picking up where i left off…
I ended up hanging around Ocean shores for the whole day Monday last week to scope out surf potential and rest up my slightly sore over worked Achilles… It soon turned out that with prevailing northerly winds there wasn't many surf options and as much as I felt like a day or two off the bike… after spending one whole day in the same place i was all ready growing restless. The thought of spending another day sitting stagnant seemed crazy.
I was tempted to push on to some where i could at least find a few waves and perhaps some more positive omens.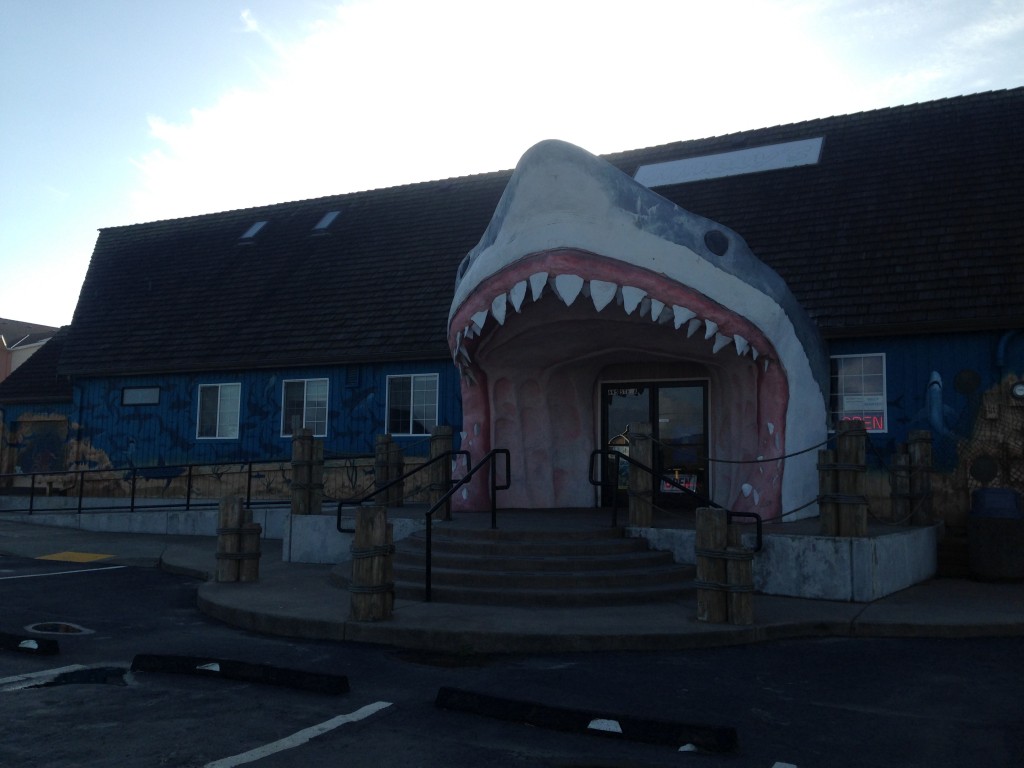 Ocean shores turned out to be a bit of a tourist ghost town with not much going on in terms of surf or tourism. I awoke on the Tuesday morning debating in my mind back and forth… to hang out and rest up or to take it easy and push on a little further?
This debate went on for a while as i packed up camp and drank too much coffee to sit still.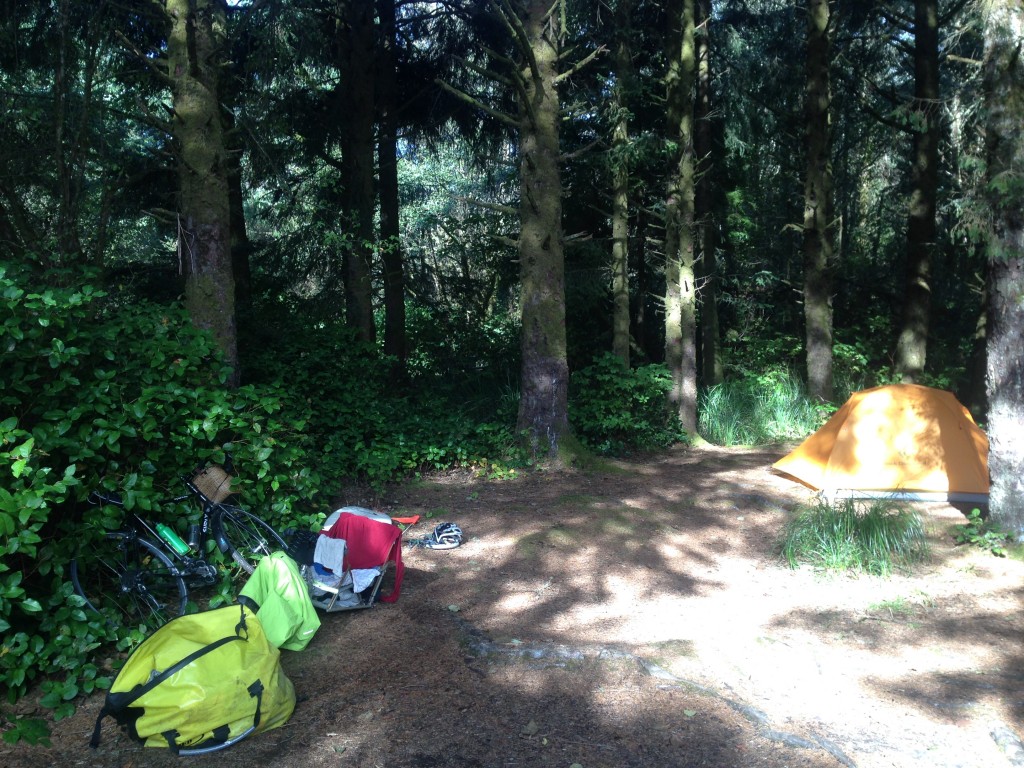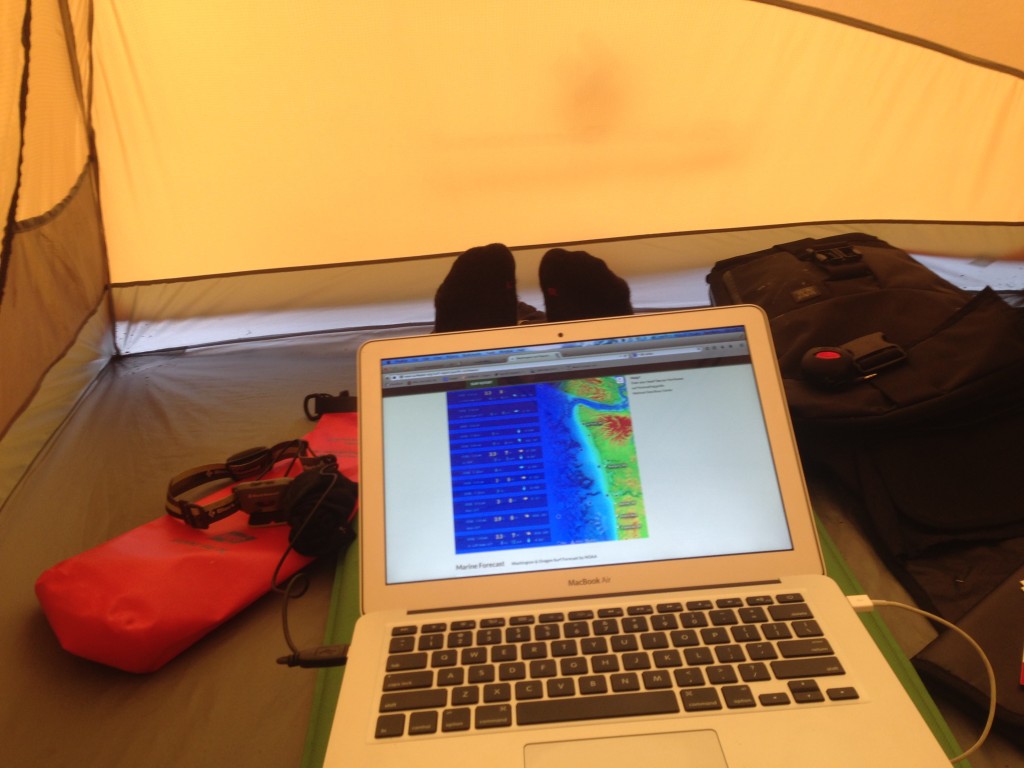 With a promising forecast for waves the next few days a little further south in Westport and having diagnosed my gear shifting related issues as simply being a crushed outer cable housing (not the complex internal workings of my shifters) i decided to drop my saddle height a little, kick off my stiff soled cycling shoes and slowly poke west to a bike shop in the next town.
With this intention realized I also became apparent that I was faced with the critical decision that every great cyclist is faced with at some stage or another… To stay clean or… follow in the footsteps of the likes of Lance and get on the gear???
I dropped a cuppla Advil and pushed on.
Before I knew it I was in Hoquiem. I pulled up at the La Vogue Bike shop and gave my RIG a bit of TLC… I even pumped up the tires a bit and acquired a spare tube for my trailer. Up to this point i was a little nervous as I had no real plan B.
Across the way i also noticed a lundramat & took the opportunity to wash my 2 shirts, some jocks, socks and a pair of shots.
With my bike all sorted and running like a dream and clean clothes on my back it was time to roll on to Aberdeen before the sun diapered. I ended up setting up camp in a lovely lake side park after it turned out that a camp ground i had looked at on a map was way out of town.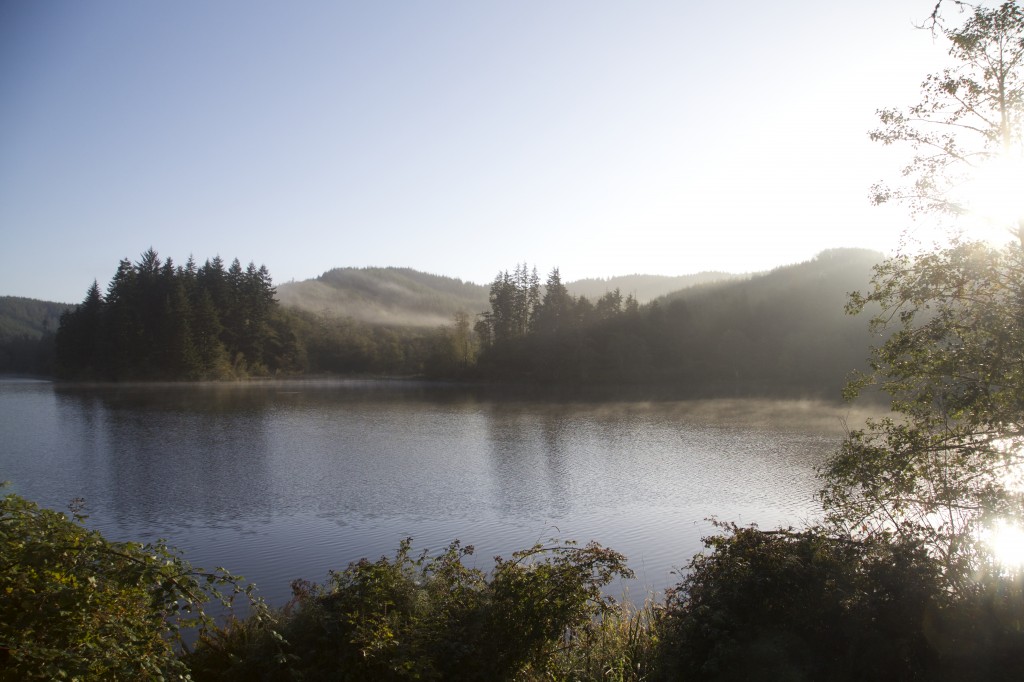 The next morning i was accosted by two geese as i was preparing breakfast and coffee. They didn't take kindly to the orange tent that had appeared in their back yard over night and after some territorial disputes i backed down, loaded up my bike trailer and got out of there lucky to be alive.
I rolled into Westport WA. around lunch time and discovered the first evidence of any sort of surf scene as I peddled down the main street. That is to say there was at least 2 or 3 surf shops and a decent coffee shop!
I surfed the rest of the afternoon away at the Westport Jetty which reminded me heaps of Iluka, NSW in tersm of its set up and also a bit of Blacksmiths north of Sydney. It was a little windy but there was some decent size rights rolling through that were super playful and linking up for long enough to get a few turns dialed.
With only around 5 people out there was plenty of waves to go around and the vibes in the line up were rad untill this guy paddled out on his 5″11 fire wire looking and acting like the guy from that Offspring "pretty fly for a white guy" film clip. This poor guy was just totally missing the point and it was tragically comical to witness. It reminded me of some of the things I hadnt realy been missing  about surfing… when its gets good… and crowded. Neither of which it was.
There was a bunch of seals out and about in the line up that after noon which were super cool. I had never really seen them up close and eventually grew comfortable with their presence as they would randomly pop up a few meters away staring curiously for a moment making eye contact and everything… and then darting off.
As the sun began to set my thoughts slowly started drifting towards what might also be out and about chasing seals and also where I might sleep for the evening.
I paddled in and soon got chatting to a couple of friendly dudes who were down chasing waves from Seattle. They invited me to share the camp site they had just up the road.
We cruised back there and shared some beers and conversation and eventually some moonshine… With the prospects of glassy conditions in the morning the notion of an early decommissioning was on the cards and after a tasty feast of beans I retired early for the evening.
Sure enough the wind had swung direction over night and although the swell had dropped off a little there was some super fun waves on offer. With Mr negative nelly the gnarly local no where to be seen stoke was prevalent. By mid day I decided I should paddle in and hit the road with plans to push on another 30-40 miles before the day was out.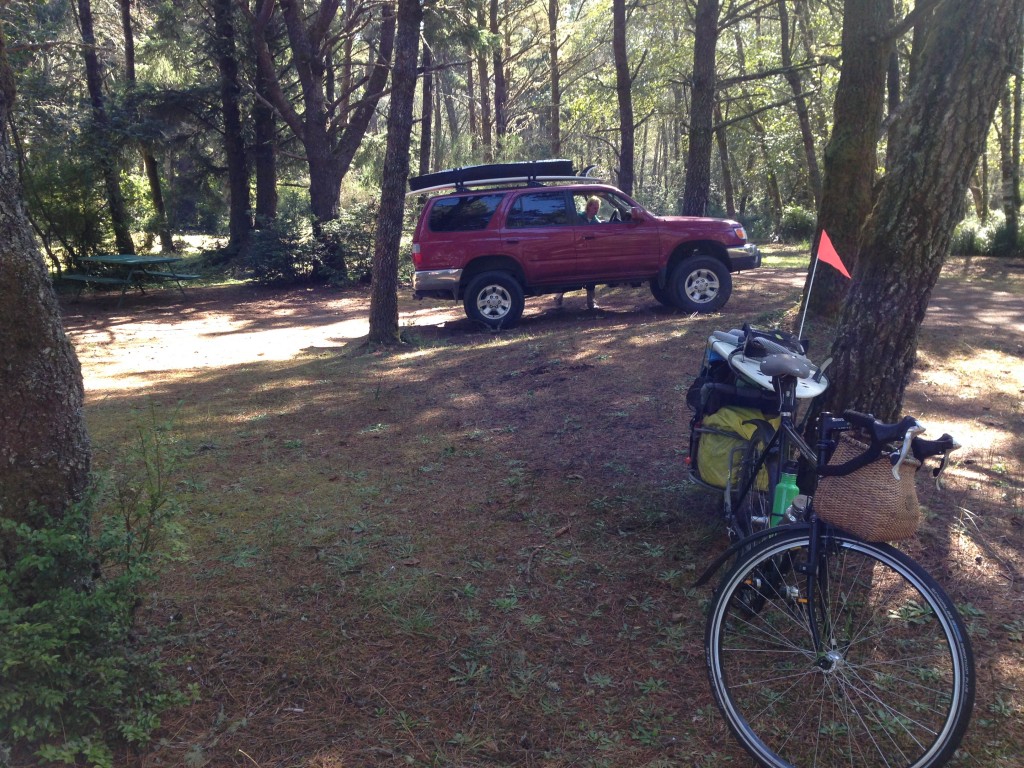 That afternoon I cruised south through to South Bend where i stopped off to procure some groceries for dinner before heading on to a camp site south of town for the night.
After another amazingly warm sunny day I was treated to a beautiful sunset over some super green sea side dairy cattle country.
Moments later I happened to run into another cyclist headed north. He pulled up to chat but reminded me a little bit too much of Jack Nicholson from the shining… so i freaked out and bailed half way through our conversation… haha
Yea nah… he was a friendly dude named Brook from NY who had a pretty similar set up to myself. We shared some conversation and kept on keeping on.
Its been sweet to run into a fair few other cyclists on the road and in camp sites amongst my travels all ready…. The common ground makes for an instant sense of connectedness. It also helps create a sense that the whole riding bike along a highway is a normal way to get around, and that cars a just silly expensive way of traveling past everything way to fast to take any thing in.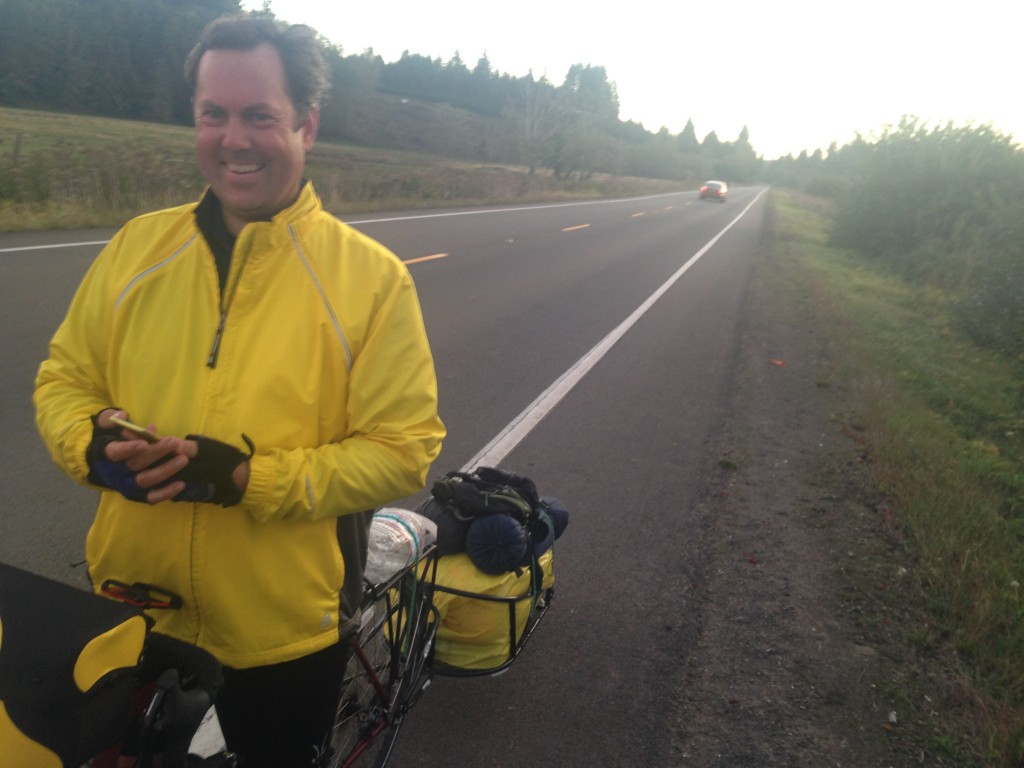 With darkness rolling in peddled on a little further down the road  to a sweet little private camp site on the top of a ridge. With no camp host/staff around I rolled in and set up camp and got to preparing an epic feast that had my MSR stove working over time.
Before I called it a night I thought i should do the right thing and swing by the camp hosts RV and announce my late stealth arrival by bicycle. We had a chat and the kind dude gave me some tasty tomato's. I told him my name was Ben and that i would drop off the $10 camping fee in the morning on my way out… unsure as to weather or not I actually had any cash money.
A cool clear night followed another amazing day and after a feast and a coupple beer I slept like log.
The next morning I woke to the increasingly familiar drone of an over sized american ute (aka PICK UP) engine coasting to a stop near by my camp…. I heard the door open and figured the camp host guy must have been coming to collect my payment.
Half asleep and unsure as to where/what cash i might have stashed on me i was relieved as he apologized for waking me and announced that he would leave my $10 on the table under one of the bottles???
I was confused and said cheers mate in rolling with this confusing series of events.
Apparently… he was so stoked to have me stay at his camp site he paid me!
I jumped out of bed and got on with making my morning coffee/oats… which ended up taking around 2 hrs.
As it turned out the stove i had picked up for $15 at a spring sale at the community hall in Banff was in need of a little maintenance.
My coffee when i finally did get it made tasted extra good 😉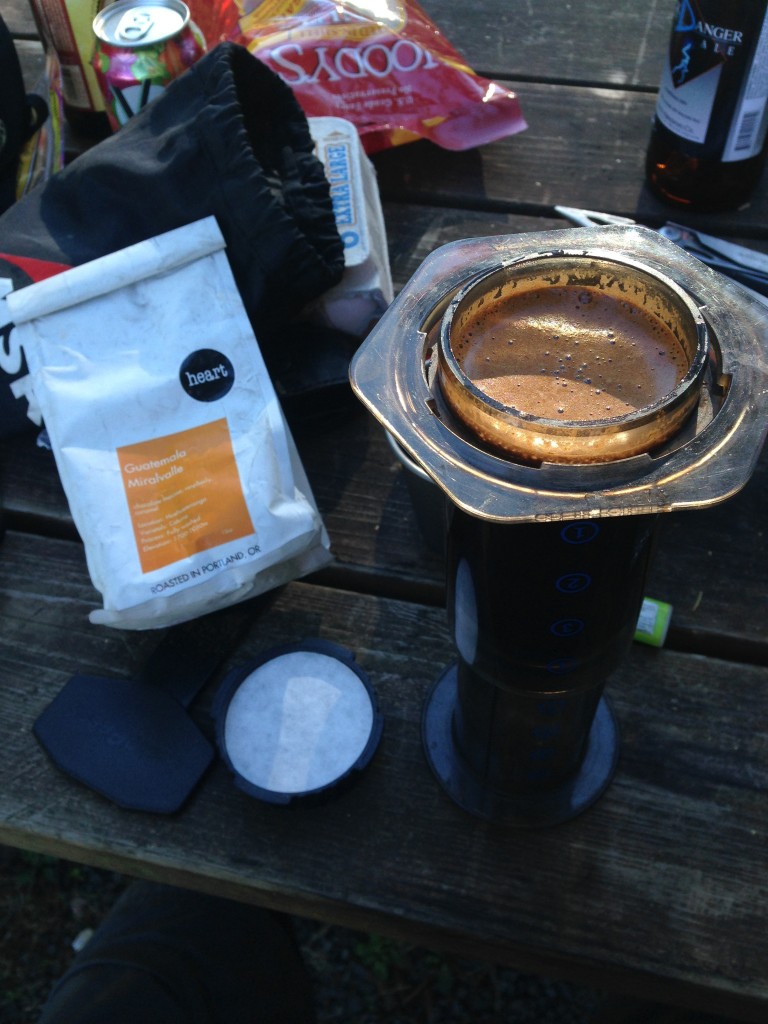 I set off south by around midday for Longbeach/Cape disappointment (the South western point of washington). With no expectations in terms of an afternoon surf I was super stoked to roll down to Seaview beach just to see what i could sea sea sea… It turned out there was some glassy waves on offer and a bunch of stoaked crew heading out for an after work Friday arvo sesh. After a warm day peddling I was super psyched to jump in the ocean.
I got to chatting to some of the friendly folks out in the line up and one of the guys kindly offered to have me crash at his place.
And… so after a fun day of peddling and paddling I made tracks to my new found friend Chris' place in Ilwaco near Cape Disappointment for some Salmon on the Webba!
And then slept like a baby in a real bed for the first time in a while.
The next morning I had a coffee at the local antique shop cafe and shared some great conversations with a bunch of classic characters who were passing though on their morning ritual…
Topics of conversation ranged from seafaring sailors telling tales of working on yacht deliveries up and down the west coast with boat owners stealing cats from other boats and wielding guns at sea… to spirituality, textile trades, excess consumption and ultimately how broken America is as a product of the undereducated masses of the 300 Million + just mindlessly passing through with a retired hemp farmer/clothing manufacturer who had lived through some crazy times in the 70's and was now living off the grid part of the time in a boat and part of the time in a property near the Canadian border.
Eventually caffeinated and well rested I hit the road south to Seaside Oregon.
This involved crossing this crazy cool bridge over the Columbia river… It was 4 miles long!
In Seaside I had lined up a place to stay through warm showers.com.
In spite not even actually being in town for the weekend Neil, a totally random stranger opened his house up to me and a few other couch surfers for the weekend. His place was a mere 4 blocks from the beach and a perfect place to hang out and get some surfing done over the weekend at the left hand point break at the south end of Seaside beach.
I also headed out to an all American diner place with 5 of the other house guests on Sunday morning for PANCAKES. (when in Rome?)
After more waves on Sunday afternoon I loaded up my bike and got ready to set sail south early to a break called the Cove/short sands first thing Monday morning… Apparently there is still some buried pirates treasure there some where.
Sunday evening Neil the kind stranger who had opened his house up to me and others for the weekend returned after spending the weekend celebrating his daughters birthday in Portland.
We shared some chats over a few beers & red vino's and discussed countries he has visited over his years and those he was still keen to check out. He had definitely seen a fair few places around the world with his career as a cross country coaching, student councilor and teacher affording him plenty of time off to run away from the wet cold winters of north west Oregon.
In discussing the logistics of staying at Neils place over the phone in the days before i arrived into Seaside i picked up on a phrase he used in responding to my… "G'day Neil how ya goin"… He simply said he was "perfect & getting better". This simple phrase perfectly reflected his eternally optimistic outlook on things and we discussed how rad it is when u can maintain a positive disposition and all around optimistic view things just seem to manifest. Smile and the world smiles with you and all that…
If nothing else… the past two weeks have definitely reiterated this and as I I keep on keeping on south i cant wait for the adventures yet to happen and all the people im yet to meet!
My RIG all loaded up ad ready to roll south from my new friend Neils place in Seaside.
I never got around to asking about the graff on his garage door…. i can only assume it was some other super grateful couchsurfing/warmshowers guests?
xo Benjamin